Chloé: Apr 2018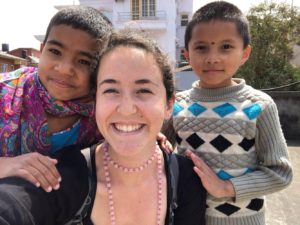 Chloé (USA): "I volunteered with Aishworya for a couple of weeks, after completing a program in Pokhara and having been in contact with Pramila through a close family friend. I received a very warm welcome from the kids, helpers and especially from Pramila and Nirmala. The kids were so wonderful, kind and warm. I came by everyday to visit and teach yoga to the kids – all were eager to learn and always had an open mind and heart. In general, the children are well behaved, polite and very welcoming. It would be wonderful to see them have a volunteer activity offered during holidays or time off, as something to look forward to and engage the children differently. My experience with the children's home was extremely positive and I hope to come back again soon! Thank you to the staff/volunteers for everything that you do for the children – how lucky they are to have people like you in their lives."
Dalia: Aug 2017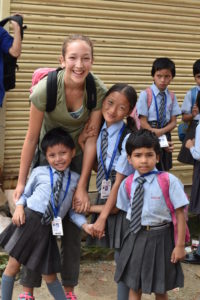 Dalia (USA): "At the beginning of summer 2017, I was an inexperienced 13 year old girl. My family's involvement in Nepal had started when I was three, so the orphanage was a large part of my childhood. My sisters took over, creating incredible fundraisers. Ten years is a long time to wait, so I was–unsurprisingly–excited to be included last summer in the plans to visit Aishworya!
The suspense leading up to Nepal was huge, and so was the night before I met the most amazing people, ever. But when I did finally meet them, I was so timid! I knew no names, just faces from pictures. But yet, they invited me with open hands and hearts. I was surprised, for, on the way to the orphanage, stray dogs, dust, trash, poverty, and pollution stuck out to me like lightning. I realized then, that the most unlucky were the most giving and loving.
 
Every night at Aishworya, we would have an activity planned for them. I wanted to get their creative and fun side out, so I had decided to bring 'Rainbow Looms' from America, to create bracelets, necklaces, charms. As soon as I opened the box, everyone went crazy, from the young boys to older girls, even a little two-year-old girl wanted to make some bracelets, and also Ama had fun making bracelets. And although the evenings were tiring, as I had to be everywhere, helping here and there unceasingly, it was the beginning of ecstatic nights of fun, smiles, and laughter. But the thing that struck me the most was several of the girls made a bracelet, asked me for my help, and then when I gave it back, they refused to take it, saying that the bracelet was for me. The gesture were unforgettable and so gracious. I could not thank them enough. I wore it for the rest of my trip and still do, in remembrance of Aishoworya.
While the kids were in school, we made smoothies. We used a blender from the Home and bought fresh fruit from local markets. Smoothies were usually accompanied by some chocolate and cookies for the children's afternoon snack that we were bringing to school. They would be so happy, it was their break in a very long and studious day. The vitamins were much needed in their case, right before starting with homework.
We also built great memories when we took everyone on a field trip to the Amusement Park in Kathmandu. What a fun day, exhausting as at some point I had to keep my eyes alone on 21 little kangaroos jumping from one activity to another, but what a joy to see the lights in the young eyes!
In two electric weeks, I had learned so much, like how giving is so much better than receiving, or that I can turn the privileges I have into a strength to help others. The children's love for learning and desire for school books triggered my own academic curiosity and made me appreciate that this system I take for granted is, indeed, a gift. At the end of our stay, I was a new person with a different mindset. Those loving, giving and indescribably incredible kids are what drive me to be the person I am meant to be, who now wants to change the world, one child at a time."
Hanna: Mar 2016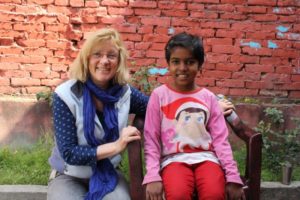 Hanna (Italy): "My husband and I spent a month in Nepal visiting the current projects of our organisation, ProNepal. One of these projects is Aishworya Children's Home, where we support some of the children by private sponsors from South Tyrol, (Province Bozen, Italy). We spent a pleasant day with the children outside the city. We went to some holy places, like Budhanilkantha and a Buddhist monastery. We also gave the children a good meal and ice-cream.
We got a very good impression about Aishworya. The daily life is organised well. Nirmala and Pramilla are doing good work and take care of the children."
Solange: Jun – Oct 2009; Dec 2014 – Jan 2015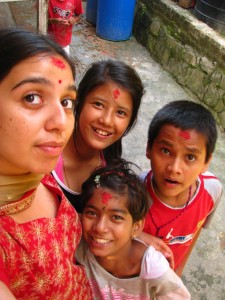 Solange (Australia): "Aishworya will always hold a special place in my heart. It is a second home to me, and I will never forget the wonderful four months that I lived there and discovered so much about life. From my experience I witnessed the amazing resilience of the children, their passion for life and learning. The staff are warm and thoughtful and work very hard to provide a safe environment for the children. After so many years it fills me with joy to learn that so many of the children have grown up to make their own lives and live well. For me, everyone at Aishworya is like family. I was fortunate enough to return there in 2014, this time with my own family, all of whom fell in love with the home as much as I have. Aishworya has touched my life and also that of my family's. I wish them well and look forward to the next time I am able to visit."
Capucine: Aug 2014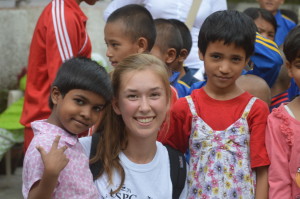 Capucine (USA): "Aishworya is a place like no other. The kind, compassionate children coupled with the kindness of Nirmala and Pramila made the experience unforgettable. I will always remember the way the children played so peacefully together, their chatty and curious natures, the warm welcomes I received upon my arrival, and the tearful goodbyes that ensued on my last day. However, what struck me the most was the sense of family the children had created within themselves. Despite all having varied backgrounds, coming from different areas and families, you could really see the bonds that have grown between them, and the love and support they had for one another. These children mean so much to me, I am so grateful to have been able to spend time with them, and am eager to return!"
Line: Apr 2014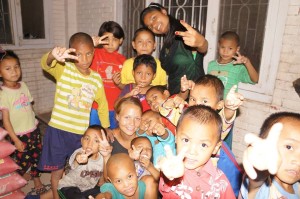 Line (Denmark): "When I arrived, many children – whom to my surprise spoke perfect English, greeted me! I already felt welcome the first evening, and the coming days I had so much fun. They are very smart, some are shy, some very open, all very different, but all of them are well behaved.
Being a volunteer at Aishworya gives you a very safe place to be, and you have a lot of different possibilities to use your skills, whatever it is – teaching, caring or fundraising, if you have ideas for new project, they are happy to listen. Being a volunteer here also gives you time to experience Kathmandu, for instance when the children are at school. You can also choose to help at the school, hang out with the staff, help cooking or other help needed.
I was very impressed at how well organised it is. A lot of children and they are all helping each other, and still having time for fun. The staff are very kind and know how to motivate the children. I would say that the staff are very modern, and they have unique experiences, it is a perfect way to learn about the Nepalese culture, because they have insight from a different perspective.
Nepal is in general an amazing country, the culture, the nature and the food. So if you are consider going, go! You will not regret it".
Nanna, Sara, Trine, Sandra: Winter 2013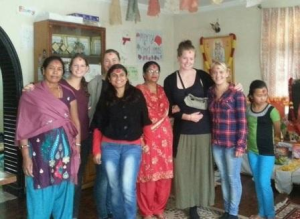 Nanny, Sara, Trine and Sandra (Denmark) stayed with us for several months. They brought food and winter clothes for the children and took them on outings to Thamel and the Zoo. It was wonderful to have them – they spent so much time with the children and we were very sad to see them go. We hope they will visit again when they can!
Flavia: Autumn 2013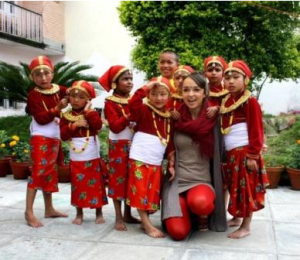 Flavia and her friends (Italy) volunteered for five months. They provided Aishworya with a solar panel to provide electricity during the frequent power cuts. We are so grateful!
Mette & Camilla: Feb 2012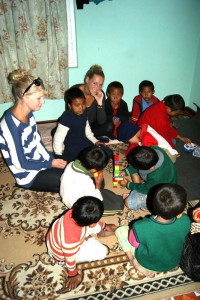 Mette (Denmark): "We really enjoyed our stay at Aishworya and the opportunity to meet and spend time with the amazing children and staff. We stayed for a month and helped with daily chores in the kitchen, taking the kids to school and teaching/playing with all the kids in the afternoon. We were very surprised how open minded the kids were, and we felt very welcome.
We experienced the colour festival and had so much fun with the kids, neighbors and locals. We took all the children to the zoo and held a party with snacks, balloon-dance, games and singing. We made spelling games and took the kids on a walk in the neighborhood while practicing words and spelling. We also bought a new football and some LEGO from Denmark – which the kids enjoyed playing with.
Aishworya does an amazing job taking care of the children and creating a substitute family. The kids are very sweet and warm and take care of each other as the older kids care for the younger. As a volunteer you can help make a better and happier childhood for the children".
Annukka (Pooja): Aug 2010 – Jan 2011
Annukka (Finland) raised funds to buy the children new school bags and clothes. Over Christmas she was busy knitting socks, gloves and hats for the children, and helped to prepare some wonderful Christmas presents and surprises for the children.
Veronika: Jun – Jul 2010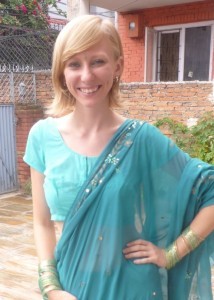 Veronika (Slovakia) was a huge help – especially in the kitchen, where she learnt to cook Nepali food and taught the children how to cook Slovakian food! She enjoyed learning about Nepali culture and the opportunity to attend a traditional Nepali wedding with Nirmala's family.
Halbera: Jun – Jul 2010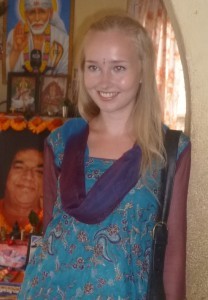 Halbera (Iceland) loved playing with the children and especially liked traditional Nepali clothes. She taught the children a lot of interesting facts about Iceland which the children loved.
Carla: Jun – Jul 2010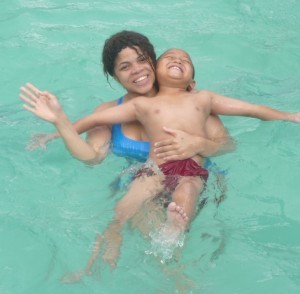 Carla (UK) really enjoyed her time at Aishworya and took the children on some lovely excursions, including a trip to the swimming pool. The children loved asking Carla questions about her background and home life, and learning more about the UK.
Josefin (Juneli): Apr – Jun 2010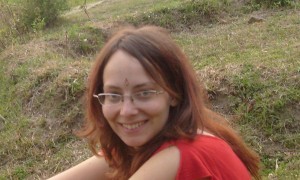 Josefin (Sweden): "I had a great time at Aishworya Children's Home, sweeter and nicer kids are hard to find and I learned much from them and the entire experience. It was such a great sense of community, I think the kids really liked it there. I have a lot of good memories, especially of the kids singing and dancing, so much talent there. It was really inspirational seeing people with such kindness and will to help, and people from tough backgrounds who've risen above it and still have love in their hearts. Will never forget you!"
Molly: Dec 2009 – Jan 2010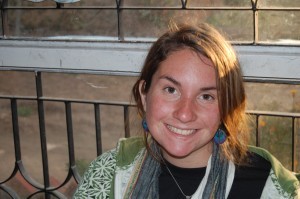 Molly (USA) came to stay during her winter holiday. "As it was the children's winter break from school as well, I mostly read stories with the children, played a lot games, drew pictures, and danced! I learned a lot of Nepali dance moves from the kids. I really miss all the children and staff."
Kaisla (Kalpana): Aug 2009 – May 2010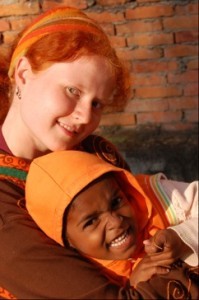 Kaisla (Finland) taught the children a lot about Finland, as well as helping the children with their homework and helping around the house. She says: "I have been very happy to stay here in Aishworya family, and am already waiting for when I can come back".
Petri (Bicash): Aug 2009 – May 2010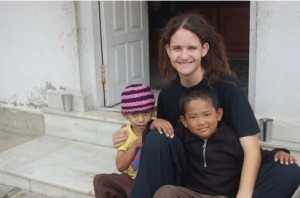 Petri (Finland): "I am studying NGO and youth work, but my studies also include child care and social work. I specialize in special education. For 10 months, this children's home is my work practice, so I'm studying at the same time I'm doing voluntary work. This has been a huge experience for me, and Aishworya is my second home and second family."
Maluz (Sharmila): Nov – Dec 2009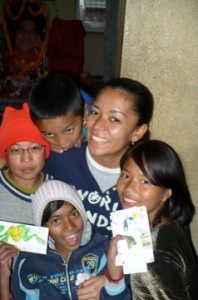 Maluz (Panama) really enjoyed her time at Aishworya, and has stayed in regular contact since she left. She says: "I had the opportunity to spend an amazing time in Aishworya. I participated in fundraising activities that were really nice and fun.  I especially enjoyed staying with the kids before they went to bed, we shared really nice stories!  I can't wait to visit Aishworya again".
Outi (Sapana): Sep – Dec 2009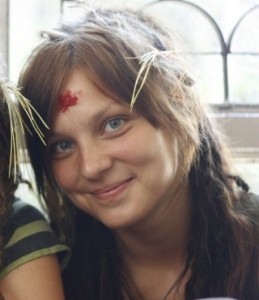 Outi (Finland) and Marianne (below) spent time at Aishworya as fieldwork for their study at the University of Applied Sciences in NGOs and youth work. Outi loved spending time with the children, and she and Marianne have worked hard since returning to Finland to promote Aishworya and raise awareness and funds.
Marianne (Bipana): Sep – Dec 2009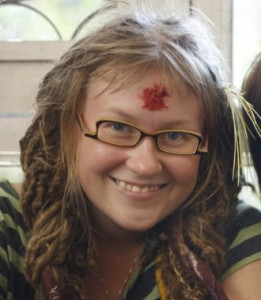 Marianne (Finland) came to Aishworya with Outi (above). Her studies include art and cultural education and her project at Aishworya was about story crafting. She says "I learned so much from the children. Mostly about extreme community living, how more than 40 people can live happily under the same roof and share all! I was also amazed by their enthusiasm to dance, they taught me the Nepali-moves and twists too. The children are so beautiful, funny, lovely and kind. And they all are unique individuals with their own style, it is great how they are let to be like they are, supporting what they themselves find interesting. I think Aamaa and Pramila has made very good job with this home. I wish all the best and happiness. I hope to visit again after some years!".
Danielle: Jul 2009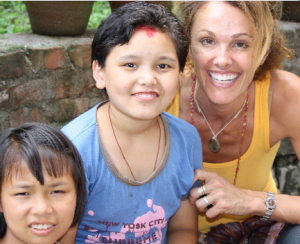 Danielle (California) enjoyed helping the children with math and reading. She loved to help out in the kitchen with the meals and even made popcorn one evening for the children. Those 38 children have touched her life forever. She hopes to return soon. Her mission for the Aishworya Children's Home for the past two years has been to supply funding for new school shoes for all the children, and we are so grateful for her continued support in this area.
Kimberley (Kalpana): Jun – Jul 2009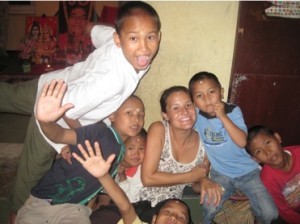 Kimberley (New Zealand) says, "I really miss all of the children and staff at Aishworya – I had an amazing time and I hope to get back there soon!". Kimberley has made monthly donations since visiting and in 2014 began managing our communications and newsletters.
Faran: Jun 2009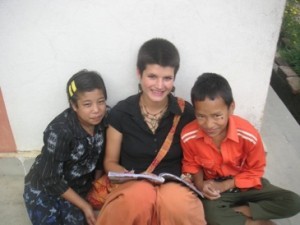 Faran, (Luxembourg) adored playing with the kids and seeing how we do things at Aishworya. The children especially enjoyed learning all about Luxembourg!
Alex: Feb – May 2009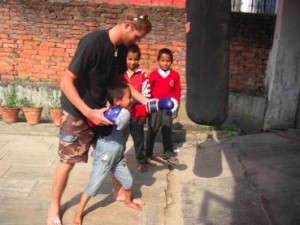 Alex (UK) was a great help to us, and the boys in particular were very happy to have a male volunteer, or "big brother" to play with! Alex taught the boys how to box and played lots of sports with them, which they enjoyed immensely.
Jennifer: Jul 2008; Jul 2009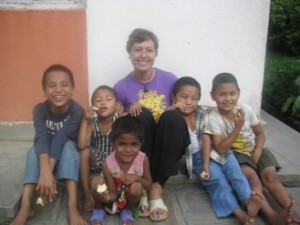 Jennifer (Sweden) loved to take the children out, and she arranged lots of trips to restaurants and the swimming pool. Jennifer has stayed in touch with us and done a lot of fundraising for us. We are extremely grateful to Jennifer for all of her hard work!
Kathrin: May 2008
Kathrin (Germany) had a wonderful time. In particular, she enjoyed playing with the children, and helping them with their homework.
Anne (Laxmi): Feb 2008 – Jun 2008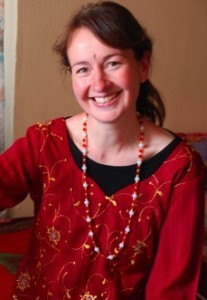 Anne (Finland) helped to teach the children Maths and English while they were out of school, and helped us to organise our first fundraising event. Once the children were back in school full-time, Anne particularly enjoyed walking them to school each day, and helping them with their homework.
Karita (Sapana): Dec 2007 – Jun 2008; Dec 2009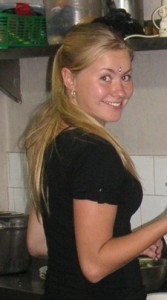 Karita (Finland) bought all of the children new math books for Christmas and was also responsible for organising HIV and Hepatitis tests for all of the children, which we are extremely happy to announce all came out negative! She was also a huge help in planning and organising our first public fundraising event. She returned in 2009, and helped us to once again ensure that the children had a fantastic Christmas.
Stephanie (Maya): Aug 2007 –May 2008; Jun 2010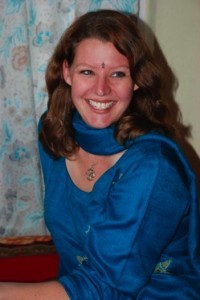 Stephanie (UK) did a lot of fundraising to help get the children back into school, including organising our first public fundraising event, and teaching them English and math in the home. Her favourite part of the day was cooking dhaal bhaat with Jack and Marich every morning. She misses the children a lot and has stayed in touch, visiting us again in 2010. For several years Stephanie managed our finances and account keeping, and helped us by doing some part-time voluntary work on the newsletters and website from the UK.
Rosie (Rekha): Jan 2007 – May 2007; Jul 2008; Nov 2014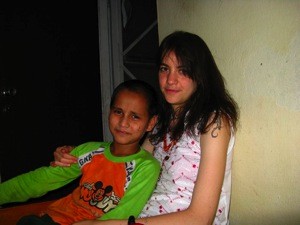 Rosie (UK) helped us to move to our new, bigger premises and has consistently donated money to help out since then. Rosie even returned twice since then to see what progress we have made! She has continued to stay in contact and in 2013 took over from Stephanie (above) in managing the website and all UK donations.
Kati: Jan – May 2006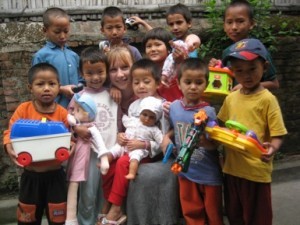 Kati (Finland) was one of the first volunteers to come to Aishworya, shortly after Aishworya opened. Kati is still in touch, continuing to offer us advice and support. She says, "I remember how the children loved to study. Sometimes it was even difficult to get them to sleep because they were so eager to study."