Friends and a Fun Park!
The year 2014 began very well for the Aishworya family, bringing in new volunteers and new friends. Alexandra Margreiter came from Austria to spend two weeks volunteering with us, and has left us with some very warm and wonderful memories.
Alex sponsored a trip to the Fun Park for all the children and made sure we got to experience the best of everything.
Everyone had a fabulous time and we are very grateful to Alex for her contribution and for joining hands to support us in the future too.
An Art Exhibition
Our children visited an art exhibition organized by some Kathmandu art students who are just completing their final year of the course. All of our children got to see it, but one even participated! Dilip Tamang, who has had a flair for drawing and art ever since he joined us, was able to display one of his pieces at the exhibition.
In fact, all the children were so inspired by the exhibition that they did drawings of their own: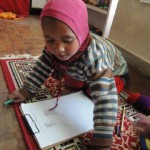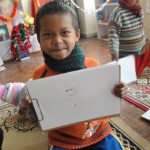 Helping with clothes
This spring, thanks to the kindness of our friends, family, neighbours and volunteers, in providing us with giving us more than enough clothes for our own needs, we were able to give away many clothes to a very remote village located in the north of Nepal.

As we receive clothes we keep the ones we need, and the rest we collect together send once a year to the village,  to provide good quality clothing to children in a deprived area of Nepal.
We want to thank everyone who has helped us with this – your donated clothes are being put to good use – and enabling us to teach our own children the value of giving and sharing.

Happy Birthday Aishworya!
Birthdays are filled with yesterday's memories, today's joys, and tomorrow's dreams. They make our children feel they are as special as any other child.
Our dear children are from diverse backgrounds, brought together under one roof as a family within Aishworya, so let's join together in wishing them all a very Happy Birthday along with lots of love and cheer for their bright future years.
Hearing from the Children: Bhagwati Karki
We'd like to introduce you to one of our older Aishworya residents, the lovely Bhagwati!
When Bhagwati was a very little girl she was rescued from child traffickers and brought to Aishworya. She has grown up over her time here to become a clever, lovely young woman – and now she helps look after the new children when they arrive.
We love her very much and this is what she has to say:
Namaste! My name is Bhagwati Karki. I am 16 years old. I am living in Aishworya from last 10 years. Nirmala Ama brought me to Aishworya and gave me a new birth. I am very happy to live in Aishworya.
I am in high school now. My favourite subject is English. I love to look after the younger kids, I want to be a social worker. I love to listen to Beyonce, she is very beautiful.
..
Volunteers who Fundraise
This summer the lovely Sofia Zoon from The Netherlands came to volunteer through the organisation IDEX, the International Development Exchange. You can find out more about them here on their website.
Before coming out, Sofia fundraised to support us with bunk beds, medicine, school bags, HIV tests for our new children, stationery and toys.
We love it when people come to volunteer – and if you can fundraise for us before you arrive, then your contribution can help us continue to do our great work! For ideas on how to fundraise and what others have done in the past, see our Fundraising for Aishworya page here.
Fresh Fruit and Veg for a Year
In November we saw the return of one of our former volunteers, Rekha, who came for a week with her friend Pete. Before his trip, Pete set up an online fundraiser, and asked friends and family to donate towards providing Aishworya with fresh fruit and vegetables to make juice for the children everyday for a whole year! He raised an amazing total of £2,256!
Roshan and Dilip (below right), along with the rest of the children, love the fresh juice, and we're so happy to be able to add this nutrition to their daily diet!

 A wonderful Christmas 2014
The children have had a lot of fun over the last few months and at the end of the year we celebrated Christmas and had a wonderful day – with gifts, cakes, songs and dance. The children loved their Santa hats!
Thank you to all our supporters and volunteers for keeping Aishworya going. We couldn't do it without you, and we hope you have had a wonderful Christmas whereever you are in the world.